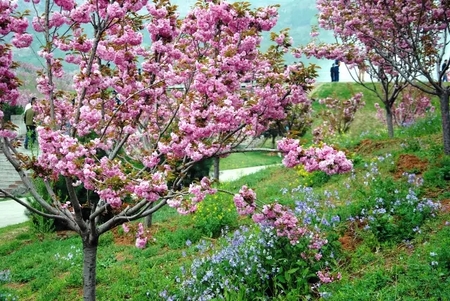 In the central park of yuquan mountain, more than 50,000 cherry blossoms are planted with various kinds. In the middle and late April of the Gregorian calendar, the cherry blossoms in the park are in full bloom with purple and purple, fragrant grass and colorful falling flowers. At that time, the park will hold the annual yuquan mountain cherry blossom festival, which has become a famous ecotourism festival in north China.Together with wuhan university cherry blossom festival, Beijing yuyuantan cherry blossom festival, guangdong cherry blossom festival, and Shanghai cherry blossom festival, it is called "China's five major cherry blossom festival".
The flowers are full of jade spring open shallow, unexpectedly the city has the garden.
If you look at the east wind, it is always spring.
Cherry blossom (scientific name: Cerasus SSP) : is the general name of several plants of the rose family primrose. It is native to the temperate and Himalayan region of the northern hemisphere. It grows all over the world.The flowers are usually put together with the leaves in early April or come into flower after the leaves. With the change of seasons, the flowers with delicate fragrance and beautiful color of cherry blossom are often used for garden appreciation.Cherry blossom can be divided into two types: single and double, single can blossom and bear fruit, most of which do not bear fruit.Bark leaves and petals can be used as medicine.
Recommendation index: from one to another
Location: park sightseeing way through the door